Journaling
What is journaling? Journaling provides a means for someone who scrapbooks to tell their story; not just through their pictures and design, but also through their words. While a scrapbook page doesn't require the artist to journal; journaling provides a little background and insight that using pictures alone may not provide.


Deciding the Layout Design
When I want to design a digital layout I normally start with my pictures. Go through the pictures you want to scrap and see what type of inspiration they provide. You can gather all types of information from your family photos.
Information such as color schemes, types of embellishments and whether or not you want to provide extensive journaling or just small snippets, such as dates and places. No matter what type of design you ultimately decide on, keep it simple. When incorporating large amounts of journaling; such as a long poem or story; adding too many other page elements may detract from your writing.
Inspiration
Inspiration is found everywhere. Whether in your everyday life or in the pictures you are going to be using. If for some reason you are having a difficult time coming up with an idea; get a magazine. The magazine can either be scrapbook related or just a general magazine. Don't forget books! Books are a great source of inspiration and knowledge. Look for inspiration in ads or search the internet and look at other layouts that people have produced.
Fonts
Fonts are the letters we type. On a Windows based system, fonts are stored in the FONTS folder within the Windows system folder.
There are many web sites where you can find your choice of free fonts to use on your layouts. Normally these fonts contain instructions on how to install; but just in case, it really is simple.
Once you have downloaded the font, unzip the font package. You will then see a file with a big "T" on it; this usually means it is a true type font; which means it works in Windows. Right click on the font file and choose copy (you are copying the font file) or you can choose to cut, open up your windows folder, go to the font folder and paste the font file you just downloaded. You have just installed your new font.
Depending on the design of your layout, you may want a fancy font or something very simple. Don't shy away from using different fonts; they can really add that little extra something to a page.
Journaling
How do you decide which types of journaling to use? What are some of the different journaling choices?
Some different types of journaling include, but are not limited to ABC journaling, quotes, poems and short story form.
ABC JournalingABC journaling includes layouts designed by using the alphabet. A is for amazing…and then you go on to write about why the person(s) included in the layout are amazing.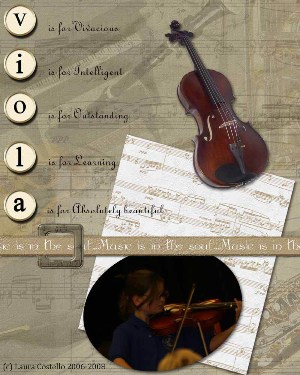 B is for basketball. Maybe basketball is this person's favorite sport and of course the journaling would reflect upon this fact. I can go on and on, but I am sure you get where this going. Use the alphabet as your means of journaling.
Poems & QuotesPoems or quotes are great to use for journaling. Using your favorite poems (self written or not) or quotes can sometimes put that special touch on a scrapbook page that you may not be able to provide otherwise.
Short StoryWrite a short story! Well, this is self explanatory; right? You are just writing a story about the events your pictures portray. Sometimes those stories can be quite funny; include them and watch the family giggle every time they look at the layout. Imagine writing about the first time you and your better half went on a date (especially if something funny happened). When you are finished, not only do you have an awesome page that helps you remember that day or night through pictures; but you have a cute story to go with those pictures.
Content
Deciding on what to journal is really a personal preference. Some examples can include:
Whatever you decide to journal, remember, do not hold back. Because this is to be a recording of a memory you want to make sure it is as accurate as possible. If you decide to use a quote, make sure that you note your sources. It is never okay to copy someone else's words or images and claim them as your own; that is illegal.
As you can see, journaling is not just about writing or displaying the year and event on your scrapbook page. Journaling is about adding that personal touch, a thought, a dream or a wish to paper that is displaying your most precious memories.



article and photo credit:: Laura Castello

Return from Journaling to the Home Page