Pregnancy Scrapbook Layout and Ideas
Some people want to document everything right from the start. Consider a pregnancy scrapbook layout in your baby's scrapbook. Devoting a page to your pregnancy is a great way to let your child know how much he was anticipated.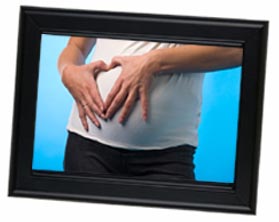 One idea is to capture your baby's very first picture, that is, his ultrasound picture! In your journal space, describe the feelings you felt when you first saw his heartbeat or his little hand move!
Now, this next suggestion is for the brave! How about those belly shots? When I had my first baby my husband took a profile shot of me every week. I stood in the same place for each picture. It was pretty neat to see the portions of the wall behind me disappear! If you decide to devote a page to your belly shots, consider writing about your cravings, emotions and doctor visits.
Displaying your baby shower invitation on one of your scrapbook pages is a must! Silly photos from the shower itself would be fun, too!
I have done some of the searching for you. Check out layouts, ideas and supplies. If you like what you see and want to learn more, click on the picture.
Paper
Printables
Rub Ons
Stickers
| | | | | |
| --- | --- | --- | --- | --- |
| | | | | |
| | | |
| --- | --- | --- |
| | | |
Pregnancy Layouts
Pregnancy Layouts at Scrapbook.com
Belly Shot Layout Idea
Ultrasound Layout


Quotes & Poems
Pregnancy quotes at Scrapbook.com
Pregnancy quotes at ThePerfectTitle.com
Pregnancy poems at Scrapbook.com
Have You Created A Scrapbook Page About Your Pregnancy?
Share your Pregnancy Scrapbook Layouts with us!
Return from Pregnancy Scrapbook Layout and Ideas to Scrapbooking Your Baby


Photography credit:

www.fotolia.com