Scrapbooking Page Ideas for the Classroom
Your passion is teaching and to make a difference in students lives. Use these scrapbooking page ideas to document each year and each of your precious students!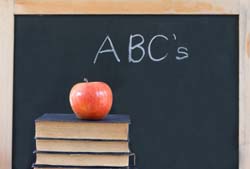 This project can be for the teacher and the students! Your finished product will be an entire album filled with a year of memories.
The Students' Task:Each student is required to make a scrapbook page. Encourage, if not require, the students to place their picture somewhere on the page along with their name. Below are a list of journal entry ideas you can pass on to your students to help them with their scrapbook page:
What is your favorite subject?
What was your favorite school event this year?
Write a note to your teacher
Your Task as the Teacher:I would recommend you create at least two page spreads. The first page should be a group picture of the entire class. Be sure to include the year and grade on the page.
Another page I would recommend to you is a page highlighting the year's events. If you had multiple evens and would like to make a page fore each event, more power to you! That is great!


Kids say the craziest things, right? Another page idea is to journal all the different quotes you have collected throughout the year.
What joy you will have looking page at these school day albums!
Below are some supplies that may help your pages get an A+:

Paper



Stickers

Rub-OnsEmbellishments
Let's see your Classroom pages!
Are you a teacher with a scrapbook album or page of your students? Or are you a parent with a page of your daughter's or son's classroom? If so, please share your layout with us!
Return from Scrapbooking Page Ideas for the Classroom to the Home Page


Photo Credits: www.fotolia.com