Wedding Scrapbook of Your Bridesmaids
Bridesmaids are such a special part of your wedding. Make them a special part of your wedding scrapbook too!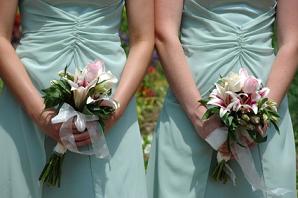 Depending on how many bridesmaids you had in your wedding, consider devoting a full page or half of a page to each girl. Or consider having a picture of each paired bridesmaid and groomsman.
Be sure to include a journal entry with some of the following for each bridesmaid:
Name
Where/how you met
How long you have known each other
Why you picked her to be one of your bridesmaids
If you have room in your scrapbook, also consider including a page showing "the girls!" Having a fun page with in the formal pages can really bring a smile to your face when you glance at the scrapbook pages several years down the road.
On this fun "just girls!" page, consider including a journal entry that tells some of the fun girls night outs that you have had with your bridesmaids.
Find some ideas and supplies for your bridesmaid pages below. Just click on the picture for more information:
Paper

Stickers

Albums
Paper Packs
| | | | | |
| --- | --- | --- | --- | --- |
| | | | | |
E-Cuts

Vellum
Rub-Ons
Have You Created A Scrapbook Page of Your Wedding?
We would love to see your "I Do" scrapbook pages! Share them here!
Return from Wedding Scrapbook of Your Bridesmaids to the Home Page


Photo Credit: www.fotolia.com