My Baby Sister Scrapbook Layout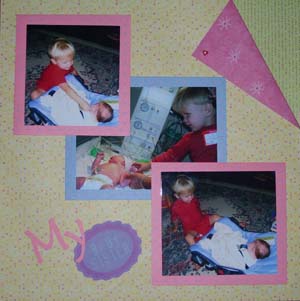 My Little Sister Scrapbook Page
Nathan was so excited when he heard he had a baby sister. He loved his sister the moment he saw her! The nurses allowed him to come in to see her even though it was after hours.
It was really neat to see how Nathan interacted with Ellen. Right away he just wanted to point out her eyes, nose, ears, mouth and hair.
I used the "double-sided look" technique for this scrapbook layout. And for the title "My Baby Sister" I used my "Perfect Title" technique for My. I then used a section of Brenda Walton Vellum Quotable Notables-Family
to finish the title.
The paper was one of Debbie Mumm's baby paper packs, which I purchased on sale at Joann.com
. Finally, I used a small heart brad.




To the Home Page from My Baby Sister Scrapbook Layout